WELLNESS Chata Jana
---
The beautiful surroundings of our wellness centre provide an opportunity to relax and escape the stress of the modern world. Relaxation stays will be appreciated by everyone who needs to recharge their batteries for the next working day, as well as guests who want to actively relax. Guests staying at the hotel have access to the wellness area included in the price. We offer an exceptional setting with perfect facilities, an indoor pool overlooking the valley, Finnish and steam sauna, whirlpool and cooling pool.
The relaxing wellness centre is open daily from 7:00 am to 8:00 pm or by appointment (VIP), with the whirlpool open from 09:00 and the Finnish and steam sauna open daily from 14:00.
---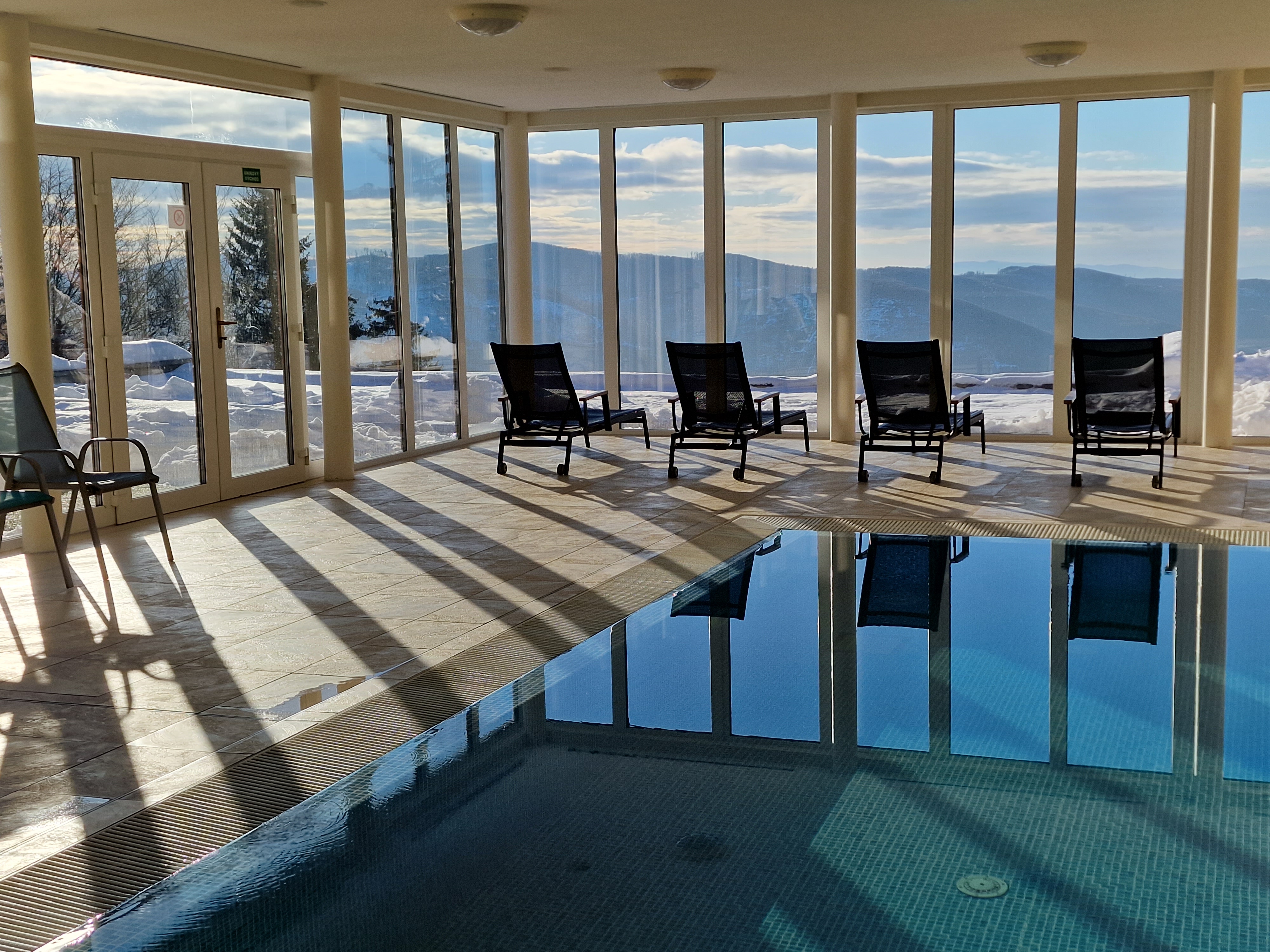 Indoor pool with a view
Heated pool and views of the valley. What must it be like to watch the sun rise for two from the pool or a relaxing lounger, or the changing colours of the sky as the sun sets over the Carpathian Mountains? We know. Stop by, because we can't describe it.
The swimming pool is equipped with a massage waterfall, which we can turn on upon request and taking into account the wishes of other wellness visitors.
The pool is open daily from 7:00 am to 8:00 pm.
---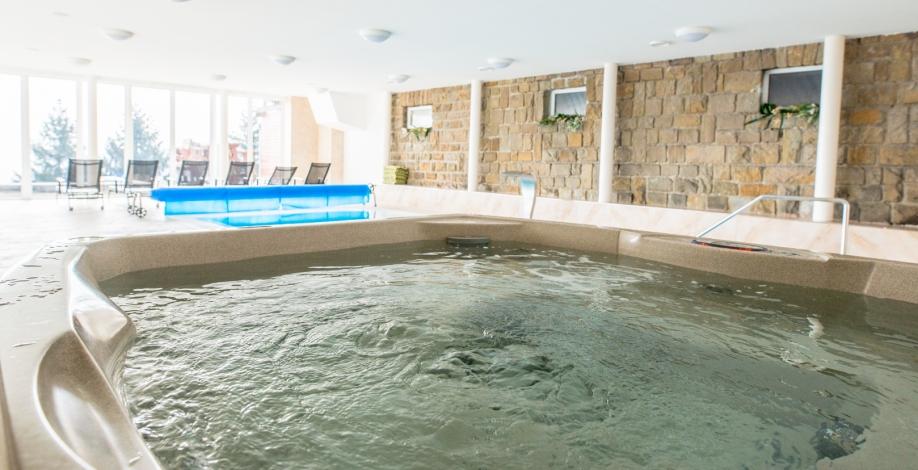 Whirlpool (hot tub)
Of course, there is also a whirlpool with light therapy in our wellness centre. From the pool you can jump straight into thousands of colourful bubbles. We will be happy to make your time together more enjoyable with a bottle of quality wine or one of our homemade lemonades.
The whirlpool is open daily from 9:00 to 20:00.
---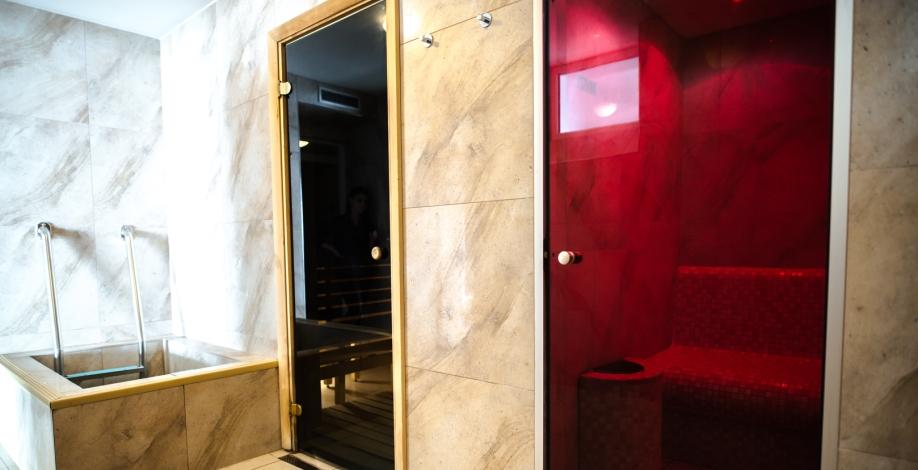 Sauna
The wellness centre includes a Finnish sauna and a steam sauna. In the Finnish sauna you will warm up perfectly, which helps you relax and improves your health. Regular and prolonged sauna use increases resistance to colds. The steam sauna uses a mist bath, which offers an ideal combination of heat and humidity.
After a sauna treatment, you can cool off in the cooling tub, under a jug of water, in the shower, in the indoor pool or by exposing yourself to the wind, rain or snow on the spa terrace.
The saunas are open daily from 14:00 to 20:00.
---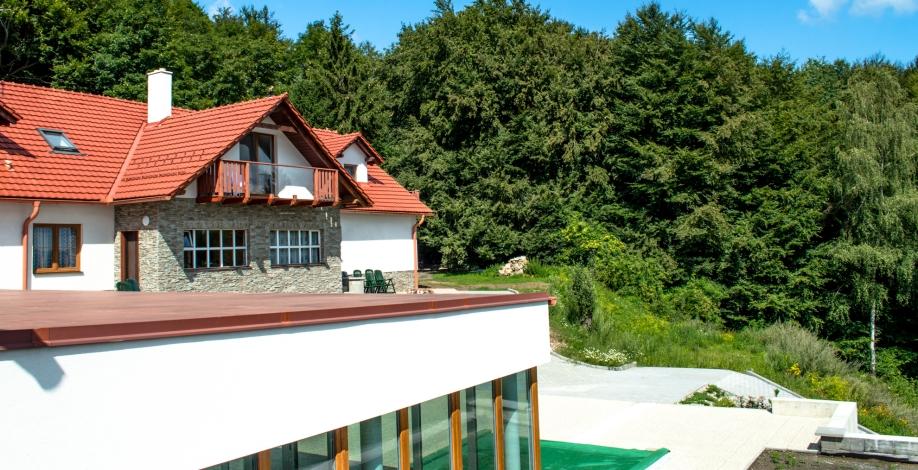 Outdoor shallow pool with terrace
On the terrace you will find a shallow children's outdoor pool with a depth of 30cm and a smaller refreshing circular pool with a depth of 120cm. The outdoor pools are usually open from June to September, depending on the weather.
In winter, the terrace is also accessible and serves especially for a wonderful cooling down in the mountain wind, rain or snow after sauna treatments.
The relaxation terrace is complemented by a massage walkway. The terrace offers a magnificent view of the peaks and valleys of the White Carpathians.
---